Join the protest against cruel coursing in Millstreet Town Park - Friday 31 December
23 December 2021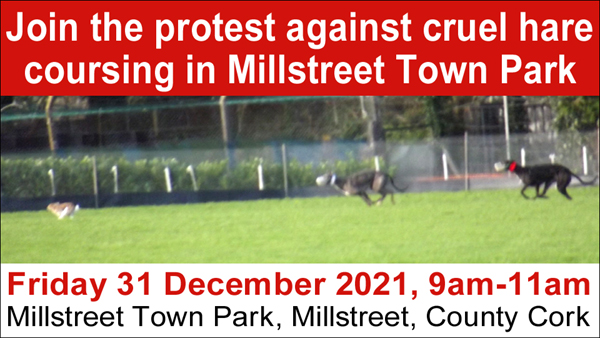 Support the protest against cruel hare coursing in Millstreet Town Park - Friday 31 December 2021, 9am to 11am at Millstreet Town Park, Millstreet, County Cork.
There are growing calls in Millstreet for cruel hare coursing to be kicked out of the town park. Locals are being denied access to their park for four weeks to accommodate those involved in the bloodsport.
A large notice currently on display at the park states: "Millstreet Coursing Club wishes to advise that Millstreet Town Park will close from Monday 6th Dec 2021 to Saturday 1st Jan 2022 at 17:00pm to facilitate their annual coursing meeting. Apologies for any inconvenience caused"
Dozens of Irish Hares, snatched from the surrounding countryside, will be held in captivity in the park. Ahead of a coursing meeting at the end of this month, the hares will be "trained" to run up the park's main field - which is normally used as a GAA pitch.
In the past, ICABS has filmed hares - released close to the pitch's goalposts - desperately trying to escape from the greyhounds unleashed to chase them. See some of our footage:
The coursers clearly didn't want the plight of the hares being recorded. Several tried to stop the filming of their disgusting "sport". "Why don't you go somewhere else?" a man identifying himself as a member of Millstreet Town Park Committee asked, before adding: "Because you'd have the s**t kicked out of you."
Hares have been caught by greyhounds and pinned to the ground at Millstreet Town Park and later examined by a vet for injuries. On the perimeter of the field, merciless bloodsport enthusiasts cheer on the dogs and gamble on which will force each hare to change direction first.
Last December, with coursing stopped due to Covid19 restrictions, Millstreet Park remained open for all the local community to enjoy.
Local resident Siobhán Bourke recalled that "everyone had the most wonderful Christmas in the park" and added that "it's not fair that these few people [coursers] are dictating what happens in our park."
In a report in the Irish Examiner, she was quoted as saying that "the park is the only place many people can go to exercise safely and it has become a lifeline to many throughout the pandemic".
"Our beautiful park that is used daily by everyone will be shut, apart from the children's playground," she commented. "This is a massive blow for our elderly citizens. My own mother hasn't left the town in two years because of Covid. Going to Mass and to the park are her only outlets. What is she expected to do for the next [four] weeks? And there are people with no back yards. The park is their yard, and now that's gone for Christmas. Kids can't go and play football there over the holidays."
More and more locals are calling for the coursing to be stopped and the park to remain open to all. Among the comments posted online include:
"Keep the park open, it's the bleakest, darkest time of the year and the park provides a safe environment for walkers, runners, kids playing ball on the pitches, etc. 100 plus people using it daily during the week and many more at weekends. To exclude all these people for weeks is not acceptable."
"It's time to call a halt to coursing in Millstreet - the sport is outdated and cruel to one of our true Irish animals."
"Made such a lovely difference last Christmas with the coursing cancelled. Hate that it takes place in the park. Hated it when I was a young child and now as an adult. How many animals were abused during that time under the guise of 'sport'. Shame on us as a nation and Millstreet as a town to still allow it to take place."
"A lot of people are upset, disappointed and angry at the closure of the park, nothing is going to change unless we as a community come out and protest at the closure of our park"
Please support the protest at Millstreet Town Park on 31st December 2021 from 9am to 11am.
Sign the petition and post a comment at
https://www.ipetitions.com/petition/millstreet-town-park
Find out more on the Millstreet Facebook page
https://www.facebook.com/millstreet.ie/posts/1814591842075390
Read more in the Irish Examiner
https://irishexaminer.com/news/munster/arid-40756551.html
Witness the cruelty of hare coursing in Ireland
ACTION ALERT
Urge Heritage Minister Darragh O'Brien and Minister of State Malcolm Noonan to withdraw the current coursing licences and give Irish Hares the proper protection they deserve.
Minister Darragh O'Brien (Fianna Fail, Dublin Fingal)
Tel: (01) 618 3802 OR (086) 251 9893
Email: darragh.obrien@oireachtas.ie; minister@housing.gov.ie
Facebook: http://www.facebook.com/DarraghOBrienTD
Twitter: http://twitter.com/DarraghOBrienTD
Malcolm Noonan TD (Green Party, Carlow Kilkenny)
Minister of State for Heritage
Tel: (01) 618 3148 OR (01) 618 3156
Email: mos@housing.gov.ie; malcolm.noonan@oireachtas.ie
Facebook: https://www.facebook.com/votemalcolmnoonan1/
Twitter: https://twitter.com/noonan_malcolm
With a RED C opinion poll confirming that a 77 per cent majority of citizens want hare coursing banned (with just 9% disagreeing with a ban), it is now time for politicians to consign this nasty bloodsport to history. Join us in contacting all TDs and urging them to act to ensure that a ban is urgently introduced. Visit the Oireachtas website for contact details for TDs https://www.oireachtas.ie/en/members/tds/?term=/ie/oireachtas/house/dail/33
Urge Taoiseach Micheál Martin and Tanaiste Leo Varadkar to respect the wishes of the majority and ban hare coursing and all bloodsports.
Taoiseach Micheál Martin
Email: taoiseach@taoiseach.gov.ie; micheal.martin@oireachtas.ie; info@fiannafail.ie
Phone: +353 (0)1–618 4350 or +353 (0)21-432 0088
Facebook: https://www.facebook.com/michealmartintd/
Twitter: http://www.twitter.com/@MichealMartinTD
Tanaiste Leo Varadkar
Telephone: +353 (0)1-640 3133
Email: leo.varadkar@oireachtas.ie; finegael@finegael.ie
Tweet to: http://www.twitter.com/@LeoVaradkar
Facebook: https://www.facebook.com/LeoVaradkar
Contact Fianna Fail, Fine Gael, Green Party, Sinn Fein and Labour Party TDs and urge them to pledge support for the upcoming Animal Health & Welfare (Ban on Hare Coursing) Bill 2020.
Click Here to Email Fianna Fail TDs
micheal.martin@oireachtas.ie; john.mcguinness@oireachtas.ie; niamh.smyth@oireachtas.ie; brendan.smith@oireachtas.ie; aindrias.moynihan@oireachtas.ie; michael.moynihan.td@oireachtas.ie; Charlie.McConalogue@oireachtas.ie; michael.mcgrath@oireachtas.ie; sean.haughey@oireachtas.ie; jim.ocallaghan@oireachtas.ie; darragh.obrien@oireachtas.ie; jack@jackchambers.ie; anne.rabbitte@oireachtas.ie; eamon.ocuiv@oireachtas.ie; james.lawless@oireachtas.ie; sean.ofearghail@oireachtas.ie; sean.fleming@oireachtas.ie; barry.cowen@oireachtas.ie; willie.odea@oireachtas.ie; niall.collins@oireachtas.ie; Robert.Troy@oireachtas.ie; dara.calleary@oireachtas.ie; thomas.byrne@oireachtas.ie; marc.macsharry@oireachtas.ie; jackie.cahill@oireachtas.ie; mary.butler@oireachtas.ie; james.browne@oireachtas.ie; jennifer.murnaneoconnor@oireachtas.ie; cathal.crowe@oireachtas.ie; james.oconnor@oireachtas.ie; padraig.osullivan@oireachtas.ie; christopher.osullivan@oireachtas.ie; paul.mcauliffe@oireachtas.ie; john.lahart@oireachtas.ie; cormac@cormacdevlin.ie; normafoley1@eircom.net; joe.flaherty@oireachtas.ie; Stephen.Donnelly@oireachtas.ie
Click Here to Email Fine Gael TDs
leo.varadkar@oireachtas.ie; JohnPaul.Phelan@oireachtas.ie; Heather.Humphreys@oireachtas.ie; joe.carey@oireachtas.ie; david.stanton@oir.ie; colm.burke@oireachtas.ie; michael.creed@oireachtas.ie; Simon.Coveney@oireachtas.ie; joe.mchugh@oireachtas.ie; richard.bruton@oireachtas.ie; Paschal.Donohoe@oireachtas.ie; Alan.Farrell@oireachtas.ie; emer.higgins@oireachtas.ie; neale.richmond@oireachtas.ie; josepha.madigan@oireachtas.ie; colm.brophy@oireachtas.ie; jennifer.carrollmacneill@oireachtas.ie; Ciaran.Cannon@oireachtas.ie; hildegarde.naughton@oireachtas.ie; Brendan.Griffin@oireachtas.ie; bernard.durkan@oireachtas.ie; Martin.Heydon@oireachtas.ie; charles.flanagan@oireachtas.ie; kieran.odonnell@oireachtas.ie; Patrick.O'Donovan@oireachtas.ie; peter.burke@oireachtas.ie; fergus.odowd@oireachtas.ie; alan.dillon@oireachtas.ie; michael.ring@oireachtas.ie; helen.mcentee@oireachtas.ie; damien.english@oireachtas.ie; frank.feighan@oireachtas.ie; paul.kehoe@oireachtas.ie; Simon.Harris@oireachtas.ie
Click Here to Email Green Party TDs
Eamon.Ryan@greenparty.ie; catherine.martin@oireachtas.ie; patrick.costello@oireachtas.ie; francisnoel.duffy@oireachtas.ie; neasa.hourigan@oireachtas.ie; brian.leddin@oireachtas.ie; steven.matthews@oireachtas.ie; malcolm.noonan@oireachtas.ie; joe.obrien@oireachtas.ie; marc.ocathasaigh@oireachtas.ie; roderic.ogorman@oireachtas.ie; ossian.smyth@oireachtas.ie
Click Here to Email Sinn Fein TDs
MaryLou.McDonald@oireachtas.ie; john.brady@oireachtas.ie; pat.buckley@oireachtas.ie; Sean.Crowe@oireachtas.ie; david.cullinane@oireachtas.ie; Pearse.Doherty@oireachtas.ie; dessie.ellis@oir.ie; kathleen.funchion@oireachtas.ie; martinkennysf@gmail.com; denise.mitchell@oireachtas.ie; imelda.munster@oireachtas.ie; eoin.obroin@oireachtas.ie; donnchadh.olaoghaire@oireachtas.ie; aengus.osnodaigh@oireachtas.ie; louiseoreillysf@gmail.com; maurice.quinlivan@oireachtas.ie; Brian.Stanley@oireachtas.ie; mark.ward@oireachtas.ie; chris.andrews@oireachtas.ie; martin.browne@oireachtas.ie; matt.carthy@oireachtas.ie; sorca.clarke@oireachtas.ie; roseconwaywalsh@eircom.net; reada.cronin@oireachtas.ie; pa.daly@oireachtas.ie; paul.donnelly@oireachtas.ie; mairead.farrell@oireachtas.ie; thomas.gould@oireachtas.ie; johnny.guirke@oireachtas.ie; claire.kerrane@oireachtas.ie; padraig.maclochlainn@oir.ie; johnny.mythen@oireachtas.ie; ruairi.omurchu@oireachtas.ie; darren.orourke@oireachtas.ie; patriciaryan975@gmail.com; pauline.tully@oireachtas.ie; vwynne@gmail.com
Click Here to Email Labour Party TDs
brendan.howlin@oireachtas.ie; sean.sherlock@oireachtas.ie; aodhan.oriordain@oireachtas.ie; duncan.smith@oireachtas.ie; gerald.nash@oireachtas.ie; Alan.Kelly@oireachtas.ie; ivana.bacik@oireachtas.ie
Please sign and share the petitions
Ban Blood Sports in Ireland
https://www.change.org/p/ban-blood-sports-in-ireland
Ireland – Ban cruel hare coursing
http://www.change.org/p/ireland-ban-cruel-hare-coursing
Find us on Facebook, Twitter, Youtube and Instagram
https://www.facebook.com/banbloodsports
https://twitter.com/banbloodsports
https://www.youtube.com/icabs
https://www.instagram.com/banbloodsports/
---