Limerick's Savoy Hotel offered special rate for coursers
05 April 2011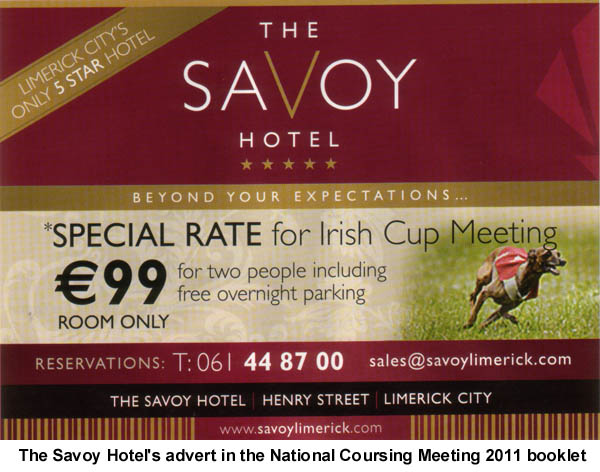 The Savoy Hotel in Limerick has been criticised for advertising in the booklet for the National Coursing Finals in Clonmel in February. The advert showed a photo of a coursing greyhound along with the offer of a "Special Rate for Irish Cup Meeting".
In an email to manager Ronan Branigan, ICABS expressed disappointment that the hotel was offering discounts to those involved in animal cruelty.
"Coursing is an extremely cruel activity which results in stress, injury and death to hares," we stated. "We are calling on the Savoy Hotel to please show compassion for the Irish Hares and no longer advertise in coursing booklets or give special offers to coursers."
We drew to Mr Branigan's attention photos from this year's Irish Cup coursing meeting (this is a link to a pro-coursing website) showing hares being terrorised by greyhounds.
Ask the Savoy Hotel to give a commitment that they will no longer advertise in coursing publications or offer special rates to coursers.
Ronan Branigan
Manager
The Savoy Hotel
Henry Street
Limerick
Email: ronan@savoylimerick.com
Tel: 061-316311 (from Ireland)
Tel: 00353 61-316311 (from outside Ireland)
Video: The cruelty of coursing in Ireland


More ICABS Videos
Gallery: The cruelty of hare coursing in Ireland
A selection of images showing the cruelty of hare coursing.
To enlarge an image, simply click on it.
Further Reading
The Facts About Hare Coursing
Stress and Capture Myopathy in Hares
Irish Hare: "conservation status is poor"
Hares and rabbits factsheet
More information about hare coursing
Coursing: Leaflet | Photos | Videos | Petition
Make a donation to ICABS
Please consider making a small donation to ICABS. For more details, please click on the button below or follow this link to find out how to become a campaign supporter. Thank you.
---