The fox and the fruit
13 February 2007

A delightful set of photos capturing the moment a peckish fox stops at an apple tree, chooses an apple and jumps up to get it. The unique shots were taken in County Kilkenny by the late Tommy O'Neill - a wildlife enthusiast and freelance photographer.

"The fox was a regular visitor to Tommy's garden and was always at ease in his presence," recalls friend Willie. "Tommy could sit on the wall and the fox would just wander around doing whatever he wanted to!"

Many thanks to Willie and to Tommy's family for sharing these beautiful photos.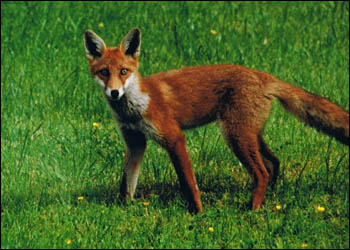 The peckish fox approaching the apple tree.
Studying the menu: The fox deciding on the perfect apple to choose.
That one, please: leaping up to grab the apple.
A fruitful effort: the fox successfully getting the apple.
Quite a mouthful: the fox sets off to enjoy the apple.
The red fox diet
According to Foxwatch Ireland, fruit is definitely a favoured food among foxes. Not only apples but blackberries, plums and grapes too.
The fox diet also consists of mice, rats, squirrels, shrews, hedgehogs, rabbits, hares, birds, worms and insects.
For more fascinating facts about the red fox, please visit the Foxwatch Ireland website.
---