General Gallery - Menu
Return to: Main Gallery
A landowner makes it clear to hunters to stay out. If you would like to print out "No Hunting" signs to display on the boundaries of your property, check out our Farmers section.
This terrified and injured fox was dug out of the ground by a fox hunt in County Cork. After being attacked by a hunt terrier, the fox was put into a sack and later thrown to the hounds which savaged it to death. For more on this blood sport, visit our Ban Foxhunting website.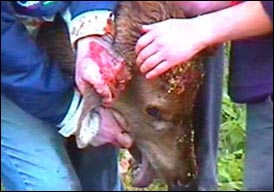 An injured and exhausted deer at the end of a Ward Union hunt. Ireland's Environment Minister, Martin Cullen, says there is no reason to stop licensing this cruelty. For more on this blood sport, visit our Ban Carted Deer Hunting website.
A 3-week-old rescued badger cub clings to the arm of Bernie Barrett of Badger Watch Ireland. The cub is making great progress and will eventually be released back into the wild.
"Warning: No unauthorised persons allowed beyond this point. Firearms in use". A crude sign hung by shooters at the entrance to a Coillte wood in County Kilkenny. ICABS has pleaded with the forestry company to make its property a haven for wildlife.
A sign at the entrance to a wildlife-friendly forest in Westmeath. ICABS hopes that in the future, Coillte will make all of its forests off limits to hunters. (Photo: Philip Kiernan)
A foxhunt hound eats the leg of a cow at a hunt-operated knackery. (Photo: Philip Kiernan)
Return to: Main Gallery