Animal Watch, Autumn/Winter 1997
Full Contents - Pages 1-8
Fox hunt video nasty
Horrific video footage obtained by the Irish Council Against Blood Sports reveals explicitly the barbaric fate awaiting foxes hunted by hounds. The footage - considered to be the most graphic yet captured in this country - was released to the national media at a special press conference in Dublin
The video images involve the activities of the South Union - a hunt affiliated to the Irish Masters of Foxhounds Association - and shows a fox being dug out of the earth with a terrier attached to its head. Both animals are then prised apart and the fox, with a wound visible on its head, is dumped into a fertiliser bag.
We then see a fox being flung in front of a pack of hounds which in seconds dive on their quarry with the inevitably appalling result.
End of the hunt: A fox is swung triumphantly in the air before being dropped to the hounds below.
This sickening spectacle is accompanied by horn blowing and jubilant whoops from the onlookers who appear to be in a frenzy of blood lust.
Scenes like these are par for the course in fox hunting, judging from references down through the years in the hunting press and from eye-witness accounts of those once involved in the activity. We know that terriermen are an integral part of fox hunting - they are the ones who bring their terriers and spades along to hunts to dig out foxes for the pack of hounds. Some hunts even employ their own terriermen, many of whom, we suspect, amuse themselves with badger baiting when not digging out foxes.
Badger baiting is strictly illegal but digging out foxes and treating them in a similarly inhumane manner, as depicted in the video, remains legal.
This organised cruelty to animals makes a mockery of our Wildlife Act and Protection of Animals Act and it is time for legislators to wake up to the evil reality of what is happening in the depths of our countryside. Foxes, like badgers, must be given protection in law from such horrific cruelty and politicians who naively view fox hunting as a harmless tradition must now face the facts.
Sickening: A terrier with the fox firmly gripped in its mouth.
Despite the regular presence of ICABS monitors at fox hunts, this video nasty of a dig-out is the first of its kind secured in Ireland. Irish hunters have become ever more desperate to ensure that their sordid activities go undetected. As a result, it has been very difficult for our monitors to film such activity which is invariably carried out well away from the public gaze.
These valuable video images shot in 1986 were secured as the hunt in question casually allowed themselves to be filmed doing their nasty work.
Joe Walsh has got it wrong - fox hunting IS cruel
The Irish Council Against Blood Sports is appalled and dismayed that the Minister for Agriculture, Joe Walsh, has given his backing to the cruel blood "sport" of fox hunting with hounds on the basis of monetary concerns. His announcement made to the horse community at the Kerrygold Horse Show shows a total disregard for the massive concern in this country for the welfare of wildlife.
The Minister's assertion that fox hunting is not cruel is absurd, misinformed and obviously made without the research or proper consideration which this highly controversial issue demands.
The Minister says that the digging out of a fox from the earth is "unacceptable" and that he does not "like it", yet he does not seem to realise that the digging out and killing of foxes is an integral part of the fox hunt.
If he is, as he says, concerned about the cruelty of dig-outs, what is he prepared to do about it, given that his Department is responsible for animal welfare legislation?
The Minister is concerned about how a ban in Britain would affect the horse industry in Ireland. ICABS suspects that, in the UK, drag hunting will replace hunting wild quarry and that horses will still be required for export from this country. So there is no excuse for the continuation of this barbarism as we approach the year 2000.
Following the Minister's outrageous remarks, the Irish Council Against Blood Sports presented him with video footage showing the cruelty of foxhunting, hare coursing and carted stag hunting - the so-called "rural pursuits" which he so blindly supports.
A letter of objection has also been presented to the Taoiseach and the Tanaiste about the Minister's remarks along with a copy of our video.
August saw the start of the cub hunting season when countless young fox cubs are dug out of their earths and thrown to the hounds to keep them blooded and to train hounds new to fox hunting. If the Minister considers digging out of foxes unacceptable, now is the time for him to act to prevent this cruelty to animals.
Blood Sports man asked to resign from Heritage Council Wildlife Committee
The Irish Council Against Blood Sports has called on the Heritage Council to drop a blood sports supporter from its Wildlife Committee. Jimmy Dunne, a former chairman of the NARGC (shooting organisation) who lists shooting as one of his hobbies, is one of a group of advisers to the Heritage Council, who are consulted on matters concerning the protection and preservation of wildlife.
ICABS has expressed outrage over the appointment of Mr Dunne to the committee, given his stance on blood sports and his hostile attitude to ICABS and its aims as outlined in a seriously defamatory fashion in a shooting magazine published in 1987.
Mr Dunne's defamatory statements about two senior members of ICABS led to a libel action following which Dunne was forced to make an apology for his outrageous remarks. In the same issue of the magazine, he praised TDs who appeared to be opposed to the aims of ICABS.
The Irish Council Against Blood Sports believes that Dunne may be acting on this committee to further the aims of the hunting fraternity, particularly the NARGC.
In a recent issue of their shooting magazine, he wrote an article about the Heritage Council, outlining that NARGC had a "very positive" meeting with the Wildlife Committee last year after which the Heritage Council confirmed to them that a policy document was being drafted which will form the basis of a strategic plan for managing wildlife in the future.
ICABS wonders how far advanced this plan now is. Up until June of this year, no animal welfare organisations had been consulted so it remains to be seen what benefits, if any, it will produce for our country's beleaguered wildlife.
Irish estate agents promote Ireland as haven for cruel fox hunters
The Irish Council Against Blood Sports has strongly condemned the manner in which some estate agents are targeting British fox hunters for country homes in well known hunting areas. They are cynically cashing in on the fact that with a ban on hunting with hounds now likely in the UK, the hunters will be seeking alternative venues for their barbaric and bloody pastime.
Some estate agents are actively promoting hunting as a selling point for country properties and are advertising in British hunting journals such as "Horse and Hound".
These estate agents appear to be totally oblivious to the cruelty aspect of fox hunting and are unashamedly promoting our country as a blood sport arena for disaffected hunters from the UK who, if their blood sports is banned in that jurisdiction, may come to Ireland and practise what would in effect be a criminal offence in their own country.
With the assistance of the League Against Cruel Sports, ICABS has been closely monitoring property adverts both in Britain and Ireland.
With protests and public disclosures in mind, we will not stand idly by as our wildlife becomes a pawn in the profit making plans of certain estate agents.
Meanwhile, ICABS has responded to an article in the Daily Telegraph newspaper in which writer WF Deedes suggested that Ireland is "keenly anticipating" an influx of British hunters. Publishing our correspondence, the newspaper's editor helped us set the record straight.
We emphasised the huge level of opposition to blood sports in Ireland and highlighted Bord Failte's cessation of cruel hunting holiday promotions.
Chairman's address
Almost a decade has gone by since last I addressed you as your Chairman. At a meeting in Limerick last May, my fellow directors elected me to this position. I hope I can justify their confidence in me and live up to their expectations.
In many ways, it is now a much changed scene from that of the Eighties. In other ways, nothing has changed. As a result of our efforts and the efforts of similar organisations, the public perception of blood sport activities has changed. People are no longer being fooled by those who claim there is no cruelty involved. The truth is better known. But sadly, not well enough known.
In other changes, we have seen the introduction of muzzling at enclosed coursing events and the withholding of otter hunting licences. These cosmetic exercises fall well short of giving protection to the hare and the otter. No change appears to have taken place with regard to our government's commitment - or lack of it - to legislate for the protection of our wildlife generally. Enlightened thinking on this matter does not permeate the corridors of power at Leinster House.
Pat Phelan, ICABS Chairman.
Given that the vast majority of people everywhere are fair-minded and humane, the success of our campaign depends on our ability to create an awareness relating to the true horror of the various blood sport activities we campaign against.
The public reaction to such awareness is the only thing that will influence our politicians.
We have always been aware that the news media is the key to our success. We are also aware that people are much more influenced by what they see than by what they read or hear. A shocking fox hunting video which has come into our possession and which was released to the national media has led to a major turning point in the campaign. With the broadcasting of segments of the video on RTE News and Sky News, the general public have, for the first time, been able to witness the extreme cruelty of fox hunting in Ireland. As a result, ICABS has recorded a record increase in calls to our office from concerned members of the public wishing to join the campaign to ban blood sports.
With major moves to ban hunting now taking place in Britain, there are exciting times ahead. A ban in Britain opens up wonderful campaigning opportunities for ICABS.
May I thank all who have made our campaign possible over the years. A special "thank you" to Aideen Yourell, our Public Relations Officer and Director, whose unflagging spirit and determination is an inspiration even in bad times.
Finally, if you are anxious to help but lack opportunity, write a letter to a newspaper expressing your views.
Obituaries
Robin Elliott
It was with great sadness that we learned of the untimely death of Robin Elliott, a tireless animal rights campaigner from Virginia in Co Cavan. Robin was a member of ICABS for many years and was a great help to us in our fund-raising and campaigning efforts.
He was also a member of the Alliance for Animal Rights and Compassion in World Farming and regularly travelled to Dublin to support their campaigns.
The late Robin Elliott at a CIWF demonstration outside Dail Eireann to highlight the cruelty of the battery cage.
In the words of a close friend, "Robin was very dedicated to the animals. He was always in good humour and I shall miss his friendly smile. He had a wonderful spirit and was very kind, gentle and loving. I am sure all animals have souls - I wonder if they have the same heaven as us? If so, I think Robin will now be with his four-legged friends."
Robin passed away peacefully on Easter Monday at the age of 44. He is very sadly missed by all who knew him and we extend our deepest sympathy to his mother, family and friends.
Betty Charters
It is with great sadness that we report the death of Betty Charters, for many years a member of the Limerick Support Group of ICABS. Betty was well loved by all who knew her. She made many friends and not just for her work for animals. She ran a small creche, allowing her to put her obvious love of and skill in caring for young children to good use within the community.
All who knew Betty encountered a cheerful smile and a happy demeanour which had an uplifting effect. She will be sadly missed by her husband, Bob, and family, and the cause of animal welfare has suffered greatly by her loss. Ar dheis De go raibh a h-anam.
Thanks
A special thanks to Brendan Hughes and Terry McGinley, inmates of Portlaoise Prison, for their donation of a beautifully hand-crafted engraved mirror to ICABS which we intend to raffle in our next edition of Animal Watch.
We spent a full day at the prison last December, at the invitation of the teaching department, giving talks and showing videos.
Rally Report
Special report by Mike Huskisson of Animal Cruelty Investigation Group who attended the Countryside Rally in Hyde Park, London on July 10th
The rally was advertised to start at 11am and I arrived at about 10:30. Supporters streaming in from the underground exits were given free "I Was There" badges and song sheets.
The hunters estimate the crowd at 100,000, of course, and the police say it was around 80,000 but having stood in football crowds of 20,000 I would doubt that there were more than 50 to 60,000. Certainly there were less than the organisers had expected as there was a request from the platform for the crowd to move forward to fill up the gaps near the stage. Moreover, a substantial number of the crowd, maybe as many as a third, were school children playing truant and students below the voting age.
The organisation of the rally from the stage was poor. No schedule of speakers or timings was produced. There was no effort to advance any arguments, convert people or even try to win them over. "This Is The Last Peaceful Rally!", "The Countryside Will Fight!" were frequently voiced to roars of approval but quite how and against who was never suggested.
We were there! Fox hunters pile onto the stage in Hyde Park.
There was no structure to the platform proceedings. Town dwellers, particularly Londoners, were ridiculed. The government was ridiculed for its tolerance of gays, blacks and the ethnic minorities. The media was ridiculed also, particularly the Daily Mirror.
The crowds were largely good-natured and well controlled. There was one supporter near me who was very drunk. There was also a young, female "anti" right at the front who did her best to heckle the proceedings. There was a bit of jostling and threats to "do her" but the professional show stewards stood by her and ensured that no threats were put into effect. Apparently they had 250 of these stewards on duty from 5am, each of them paid £7 per hour!
A variety of foreign hunters were introduced - representatives from Italy, from French field sport group, FACE, and from the Irish Masters of Fox Hounds. With that lot and all the earlier mob who trooped onto the stage, it was quite crowded but there was one glaring absentee. Where was the National Farmers Union? The whole thrust of this rally was country versus town, farm worker versus factory worker so what about the NFU? To my mind, their refusal to be involved says a lot for where the truth of this argument lies.
The rally just sort of fizzled out at 2.30pm. There was no rousing crescendo, no last calls for action, no focus. I came away from the rally feeling confident that we have nothing to fear from this lot.
They will doubtless praise it as being the most brilliant rally ever organised in the history of hunting but as it patently failed to convert even one solitary person. what was the point? I saw no leaflets passed to the public and from the PA system, there was only mocking derision and threats. As ever, the arrogance of the hunting fraternity will be their undoing.
ICABS office re-structuring
This year ICABS has embarked on an office restructure. In order to rationalise and streamline our administration, we have closed our office in Cork, and transferred much of our administration to the Mullingar Press and Information office, staffed by four FAS Community Employment Scheme employees, under the direction of Aideen Yourell.
So any queries you have or information you require, don't hesitate to call us at 044-49848.
If perhaps your local school or youth club would like us to give a talk on our campaigns, call the office, and this can be arranged. Also, if you would like to start an ICABS support group in your area, or would like to help with active campaigning, do get in touch.
We would particularly welcome calls from anyone interested in going out observing - if you can use a camera and would like to help us keep an eye on blood sport activities around the country, we want to hear from you!
The things they said
"There were in fact trials carried out by the Irish Coursing Club a number of years ago and it was found that the hares were being damaged by the muzzles. We felt it led to suffering by the hares afterwards. When hares get injured, they find it very difficult to recuperate from any form of injury." Gerry Desmond, Chief Executive, Irish Coursing Club. Morning Ireland, RTE, October 1991.
"It is an option and it has been tossed around a while. A lot of people would feel that muzzling might actually result in cruelty to the hare, If you get a weak hare, he might be tossed around by muzzled dogs and he would be battered." Gerry Desmond, Chief Executive, ICC. Irish Greyhound Review, 1987.
"Terriers were some time in coming as car followers were the wrong side of the wind for hearing. A quick dig followed and two foxes were dispatched. Eamon had a brush for Clarissa and a fox's tongue which he intends pickling in vinegar to cure warts and draw thorns." Westmeath Foxhounds, Hunt Report, Irish Field, December 1991.
"Hunts are more likely to kill the old, maimed and infirm foxes...a sort of mopping up operation." James Norton, PRO, Irish Masters of Foxhounds Association. Morning Ireland, RTE, August 8th, 1997.
Information leaflets
A big thank you to all the people who contacted our offices during the past few months requesting information on blood sports.
In our ongoing efforts to raise awareness, we are always delighted to send out information packs to suit your needs. Whether you're a student doing a project or preparing for a debate, a member of a youth club or adult group arranging an information stand or simply an individual who wants to find out more about the various issues surrounding blood sports, ICABS will be happy to accommodate you.
It is very encouraging to see that the demand for blood sports information from members of the public has soared in recent times. With the issue receiving a high level of coverage on television and in newspapers, the amount of people wishing to get involved in the campaign has increased dramatically.
We always try to encourage supporters to help spread the word about blood sports by distributing leaflets amongst family, friends and neighbours. Petitions are also available to get signed up. For students interested in arranging an information day among classmates, we can also organise for a representative of ICABS to attend your school to give a talk and show videos. ICABS thanks all those schools who invited us to give talks in recent times.
Dublin Support Group news
During the year, the Dublin Support Group of ICABS joined Joint Animal Aid in the running of stands at two international dog shows in the Irish Kennel Club's show centre near Dublin airport and also at the Garden Festival in the RDS in May. ICABS merchandise was sold and a vast amount of literature was distributed.
Flag days were held on 6th and 7th June throughout the Dublin area.
Some members supported pickets and protests together with other organisations and took part in a protest at the Spanish Embassy on World Day Against Bullfighting.
It is now ten years since the administration of ICABS was relocated from Dublin and the members from this area formed the Dublin Support Group.
There is great scope for flag selling in supermarkets. Superquinn have 12 branches in Dublin which need to be booked in advance, and in outlying towns and villages where information stands can be held, perhaps on Saturdays or on late shopping days. Those who work in the city and who could spare half an hour to join a lunch time picket would be most welcome.
So now, Dublin members, please get in touch with Meresa Dunne, Charlotte Eager or any member known to you and offer your support for these and other activities.
We were very sorry during the year to lose one of our most active and reliable members - Pat Patterson - whose career took him to Galway. Our good wishes go with him.
We were deeply saddened to hear of the death on 1st March of Robin Elliott. Robin was chairperson of Cavan Support Group for some years and would travel to Dublin on every possible occasion to help at stands and pickets. The large attendance at the funeral service in Robin's parish church in Virginia was a fitting tribute to the esteem in which Robin was held.
Charlotte Eager.
DNA test used in search for badger killers
Four men accused of killing a badger after digging it from its sett were linked to the crime by DNA tests on the animal's body, a UK court was told in September.
John Sutcliffe, prosecuting for the RSPCA, said tests showed that bodily fluids or tissue from the dead badger were present on one of the men's boiler suit and on the knife of another.
33 hares killed in coursing...and that's just for starters
According to the Department of Agriculture, 33 hares were killed at coursing meetings last season. This shocking figure is further proof that the muzzling of greyhounds is simply not working - hares are continuing to suffer and die in this barbaric blood sport.
And with the Department admitting that most of their information is supplied by coursing governing body, the Irish Coursing Club, ICABS suspects that this figure represents only the tip of the iceberg.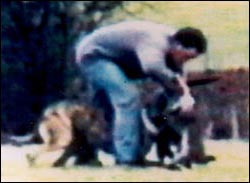 Coursing official attempts to pull the battered hare from the muzzled greyhounds.
The Department's figures show that between September 1996 and January 1997, a total of 76 coursing meets took place. At these, 33 hares lost their lives; a further 25 hares were struck by greyhounds and 31 were pinned to the ground by greyhounds. Knowing how fragile hares are, a large proportion of those struck or pinned are also as good as dead.
In this regard, it is not surprising to discover that the Irish Coursing Club neglected to supply details of hare injuries to the Department of Agriculture.
Due to a lack of manpower, just eight of the season's coursing meets were attended by veterinary inspectors from the Department of Agriculture. What this means is that the Department was only able to cross-check statistics supplied by the Irish Coursing Club at less than ten per cent of all coursing meetings.
A role model for Ireland
When it comes to measures taken to stamp out the cruelty of hare coursing, Australia must surely be a model for Ireland to follow.
Under the Australian Prevention of Cruelty to Animals Act 1979, hare coursing is prohibited. According to the Act, "a person shall not -
a) advertise, promote or take part in an activity in which an animal is used for the purpose of its being chased, caught or confined by a dog or
b) at a place used for the purpose of the activity referred to in paragraph a) keep an animal for the purpose of using it in connection with that activity."
The penalty for breaching the Act is $2,000 or imprisonment for 6 months, or both.
In Australia, a humane form of coursing is favoured in which the live hare has been successfully replaced by a mechanical device which serves the exact same purpose. In stark contrast to the repugnant form of coursing practised in Ireland, Australia's drag coursing sees no defenceless animals being subjected to unnecessary suffering or dying horrific deaths.
ICABS hopes that when the Irish Government finally accepts that the muzzling of greyhounds has failed to eliminate the cruelty of coursing here that they will look to Australia for some sensible answers.
Hunt stress report welcomed by ICABS
The findings of a UK report into stress suffered by deer hunted with hounds has been welcomed by the Irish Council Against Blood Sports. The scientific study, commissioned by the National Trust and carried out by Cambridge University found that deer hunting "caused unacceptable stress...which occurs whether or not the deer is eventually killed" and that "when red deer are hunted with hounds, the suffering is likely to be very great".
The Irish Council Against Blood Sports has presented a copy of the report along with a submission on Irish carted deer hunting to the Heritage Council which is carrying out a review into deer hunting (as practised by the Ward Union Stag Hunt, Co Meath and the County Down Staghounds).
The Heritage Council will also be reviewing otter hunting (although no otter hunts have been licensed since the early 90s), beagling and coursing, all of which are licensed under Section 26 of the 1976 Wildlife Act.
We have always believed that animals which are hunted and killed by dogs suffer appalling terror and stress. Now this scientific study, based on the analysis of blood samples of hunted deer, vindicates our position that blood sports such as stag hunting, otter hunting, fox hunting, hare coursing, beagling, harrying and mink hunting should be banned on grounds of unnecessary cruelty and suffering.
The Cambridge University report has devastated the UK hunting fraternity who, as a result, have now been banned from hunting on National Trust land. Chief Press Officer of the British Field Sports Society, Janet George, commented: "We are stunned by this. It has hit us where it hurts. We did not believe that the stress found in hunted deer would be of this magnitude. A lot of people who were previously passionate supporters of stag hunting are thinking, can I continue to go stag hunting?"
Attention former fox hunters
In recent times, ICABS has talked to a number of former fox hunters who have come forward to tell us about their participation in blood sports.
One person told of his disgust at what he "once dared do to foxes".
If you are a former blood sports enthusiast and have a story to tell, contact the ICABS office in confidence at the usual address. Video footage/photos of dig-outs, cub hunting or other cruel incidents during hunts would be particularly welcomed.
Law-breaking stag hunters get new licence despite seven year breach of Wildlife Act
The Ward Union Stag Hunt broke the country's wildlife laws for seven years but have been allowed to continue hunting anyway. The exclusive Co Meath hunt who were discovered to have been operating without the necessary licence since 1989 were granted a new licence in January.
The illegal activities of the Ward Union were exposed in Dail Eireann when ICABS Vice-president Tony Gregory TD put down a question on the matter to Michael D Higgins, Minister for Arts, Culture and the Gaeltacht. The surprise revelation put the spotlight on the cruel blood sport of carted stag hunting and led to a file being sent to the Director of Public Prosecutions.
Temporary release - a stag about to be hunted down for sport.
Following a peaceful protest outside the Department of Arts, Culture and the Gaeltacht in Dublin, ICABS representatives met with Minister Higgins in a bid to have the Ward Union's application for a new licence rejected. A submission outlining the cruelty and unnecessary suffering caused to hunted stags failed however to win a respite for the terrorised animals but prompted the Minister to have the practice of carted stag hunting reviewed by the National Heritage Council. The licence issued by the Department was valid until March of this year and was subject to the condition that the Minister would appoint a person to monitor the Ward Union's hunting activities.
According to Minister Higgins, the recently published National Trust study (see adjacent article) will be "of material significance" to the ongoing review.
The ICABS campaign to secure a ban on cruel carted stag hunting is set to continue. We will continue to lobby the new Minister for Arts, Heritage, Gaeltacht and the Islands, Sile De Valera and the Heritage Council in an effort to have this outdated activity outlawed.
Blood Sport licence review will consider welfare of wildlife
A review of the issuing of licences for blood sport activities will take into account the impact on wildlife, it has been confirmed.
ICABS officials who met with members of the reviewing committee were assured that the welfare of wildlife would indeed be considered during the review.
Initiated by the Department of Arts, Culture and the Gaeltacht, the review will be carried out by the Heritage Council and will focus on the licensing of otter hunts, stag hunts, beagling, harrying and coursing under various headings including impact on habitat, landowners and public spaces.
As part of the reviewing process, all groups and individuals with an interest in the relevant blood sport activities were invited to make submissions to the Heritage Council. ICABS responded to the request, submitting an impressive and comprehensive report which clearly outlined why the Wildlife Act 1976 should be amended to outlaw the blood sports in question.
The comprehensive submission ICABS made to the Heritage Council.
We highlighted the inhumane nature of blood sports, the scientific evidence which conclusively confirms the suffering caused to wildlife, the endless complaints from landowners about hunt trespass and damage to property and the overwhelming desire in Ireland for such animal cruelty to be made illegal. We also drew the attention of the reviewing committee to the humane alternatives to blood sports, e.g. drag hunting and drag coursing.
Though fox hunting will not be included in the review due to the fact that no licence is required to hunt foxes, ICABS took the opportunity to present the Heritage Council with a specially compiled report on the unnecessary suffering caused by fox hunters. Our complete submission included photographs and graphic video footage showing the typically horrific images of blood sports.
The process of consulting with interested individuals and organisations is the first stage of this review. According to the Heritage Council, a full report on the submissions will be published before they advance to the next stage.
Anti-coursing demonstration in Roscommon
Despite poor weather conditions, a demonstration organised by ICABS last December went ahead outside the Roscommon Race Course in protest at the hare coursing activities scheduled to take place within. To our delight, the blood sport fanatics were forced to cancel their day of cruelty thanks to a heavy fog which conveniently descended onto the venue.
Our demonstration continued nonetheless and we were joined by fellow animal welfare campaigners from Roscommon SPCA. Copies of our "Facts about hare coursing" leaflet were handed out to passers-by while countless motorists passing by beeped their horns in support of our "Ban Hare Coursing" placards.
The following day, the hare coursers were back. So too was ICABS. From over the wall bordering the venue, we succeeded in capturing graphic video footage showing hares being mauled into the ground by greyhounds.
Demonstrating against coursing at Roscommon Race Course.
This video imagery was subsequently released to the national media at a special press conference in Dublin and resulted in the plight of hares being further highlighted, with primetime coverage on the RTE 6.01 News in February last.
A letter from a local woman which was printed in a Roscommon newspaper the week after the coursing took place summed up the repulsive nature of this barbaric blood sport.
"I was not impressed with what I saw," she wrote, "There was a big field fenced all around with part of it covered with blue plastic sheeting. I always thought the hare had a fair chance of getting away, possibly into neighbouring fields, but this was not the case."
"Firstly, a hare was let out in the middle of the field. The little animal seemed confused, as if it didn't know which way to run for cover. Eventually the hare ran towards the area where I was standing and went under some kind of low platform which was covered with more plastic sheeting.
"The second race took place soon afterwards but this hare was not so lucky. As the race came to an end, the two greyhounds mauled and threw the hare in the air. All I could see was fluff or hair flying everywhere. These greyhounds were supposed to be muzzled - but muzzled or not - they did a lot of damage."
"Hare coursing to me is not what I would call a fair game," the woman concluded. "The hare is a loser one way or the other."
"Sub-human" badger baiters appear in court
Three men caught digging at a badger sett in Kinnegad, Co Westmeath appeared in court in April charged with badger baiting offences. John Casey, Peter Maher and Patrick Mulligan, Jnr - all from Co Kildare - admitted interfering with/destroying the breeding place of a protected wild animal and carrying a spade and shovel capable of being used for the hunting of a wild bird or animal.
The men were caught red handed by Wildlife Officer, Jim Moore, who photographed their movements and secured the evidence which was to prove instrumental in convicting them in court.
The case which was heard in Trim District Court, had been adjourned from April when an application for two charges to be dropped was lodged.
Judge Brophy had turned down this request however, demanding to see the statements of all three before making a decision.
On the run: the "sub-human blackguards" emerging from Trim District Court.
The court heard how on February 25th 1996, the defendants, with two dogs, had come onto the land without the owner's permission and dug 1.3 metres deep into the badger sett.
When challenged by the Wildlife Officer, one of the men Peter Maher gave a false name and address. A photograph had to be circulated to Garda stations to get him identified. His co-horts allowed him to give this false information. "They went along with the charade," Judge John Brophy commented.
Referring to those involved in badger baiting as blackguards and "sub human", the judge outlined that the sett which had been interfered with was a well known sett in the area.
"The badger is a protected animal," he stated, "and they deliberately had two dogs and another dog in the boot. If a badger catches you he won't let go - it's his only defence. It is disgusting."
Judge Brophy complimented Wildlife Officer, Jim Moore, on his work, stating that he was "a brave man".
Visibly angry, he remanded Maher in custody for a week to re-appear in court and imposed fines on the other defendants. He also disqualified Casey from driving for 12 months for using his car in connection with the offence.
How will a UK ban affect our campaign here in Ireland?
There is no doubt that the game is all but up for hunters in the UK and if for some reason government time does run out for Mike Foster's Private Members Bill, it is felt in political circles there, that the government will introduce its own Bill and hunting wild mammals with dogs should be gone by, if not before, the year 2000.
The ban in the UK will be a significant milestone in our campaign here. It will pave the way for us and will put our legislators under heavy pressure to "do the right thing" and follow suit by banning what will become, in effect, criminal activities in a neighbouring jurisdiction.
There is much talk of an invasion of hunters from the UK in the wake of a ban but this is an unlikely scenario in the case of foxhunting, and for once we agree with the Masters of Foxhounds.
Here already, the hunters have an uneasy relationship with farmers and landowners who, increasingly, are no longer willing to tolerate them and their activities. Any increase in hunter numbers riding roughshod over farmland will be strongly resisted.
Aideen Yourell
Hunt invades national parks nature reserve
A Garda investigation has been called for following the trespass into a nature reserve by fox hunters in Co Offaly.
The incident which occurred last March in the National Parks and Wildlife Services nature reserve at Doory, Tullamore saw hounds and mounted riders from the Brosna Harriers unlawfully coming into the area. Visitors and tourists out for a stroll in the peace and tranquillity of the beauty spot found their afternoon being spoiled by the presence of these wildlife abusers. We were informed that when one man asked the riders to leave, they were rude to him and totally ignored his request.
The trespass was in clear contravention of the 1976 Wildlife Act and marks the latest in a series of nature reserve invasions by blood sports enthusiasts.
In response, ICABS called on then Minister, Michael D Higgins, to make a ruling to prevent so-called "accidental" incursions by hounds into protected areas and nature reserves in the future.
It is usual when incidents such as this occur for fox hunters to claim that the hounds strayed onto the land by accident. Following the Doory trespass, the hunt in question did just that - a fairly lame excuse considering that they weren't even permitted to be on the privately owned land which borders the nature reserve.
This incident further highlights the need for drag hunts to replace fox hunts. In drag hunting, the route to be followed by the hounds can be pre-defined, thus eliminating the incidence of trespass onto public railway lines and roadways.
Ireland's beleaguered wildlife has precious few refuges nowadays and these fox hunters should be kept out of wildlife havens at all costs.
Spring at Clounanna
In March, the then deputy leader, Dick Spring, caused outrage among the country's animal lovers after it emerged he attended a top hare coursing event in Limerick. Mr Spring's presence at the Irish Cup in Clounanna came just one month after ICABS released shocking video footage showing hares being brutally killed by muzzled greyhounds.
Dick Spring's support of coursing has enraged opponents of blood sports and has been described by ICABS as "shocking, disgusting and horrifying".
In an interview with the Irish Independent, ICABS representative Aideen Yourell criticised Mr Spring's behaviour as "unacceptable".
"I don't believe he should have been there considering how people feel about hare coursing in this country," she said.
"It's as if he is thumbing his nose at the majority of good people who are appalled by hare coursing - a majority which polls have shown to be as much as seventy three per cent of the population."
Blood sport supporter: Dick Spring at the Clounanna hare coursing event.
The incident prompted ICABS to demand the Labour Party to clarify its policy on blood sports. In response, a spokesperson for the party outlined that although Labour have no written policy on the matter, they are opposed to blood sports.
ICABS has challenged the party to match the progressive animal welfare policies of the British Labour Party.
Meanwhile, a spokesperson for Dick Spring attempted to play down his support of blood sports by stating that since the introduction of muzzles for greyhounds, he had "no difficulty" in attending coursing meetings. Perhaps he failed to see our harrowing video footage in which muzzled dogs violently maul hares into the ground and toss them into the air.
ICABS has been invited to meet with the Labour Party regarding their animal welfare policies and this will be taking place in the near future. We are very eager to speak with them following an apparent conflict within the party regarding blood sports.
In a newspaper article published in April, a Labour spokesperson said the party opposed blood sports while a statement backed up by Willie Penrose, TD and former TD, Brian Fitzgerald, published in the June 1997 issue of Irish Shooting Monthly stated that "the Labour Party has no policy against legitimate field sports as promoted by the National Association of Regional Game Councils of Ireland."
Bord Failte hunt promotion highly unwelcome
Guinness emphasises anti-blood sports stance
Bord Failte's policy on blood sports was thrown open to question after an ad in a national newspaper listed hunting as a tourist attraction. The hunting reference which appeared as part of a Re-Discover Ireland promotion is apparently in conflict with the tourist board's pledge last year to distance itself from blood sport holidays.
The advertisement feature published in the Sunday Independent of 4th May included a section on "Ireland - Land of the Horse" where it outlined that "a variety of basic riding and hunting holidays are available." Following the publication of the ad, ICABS called on Bord Failte to restate its stance on blood sports. Guinness whose name appeared alongside the ad were also challenged.
Replying to our queries regarding Guinness's stance on the issue, Gillian Fanning, Public Relations Manager for the company stated that: "Guinness Ireland Group is a partner of Bord Failte in the Re-Discover Ireland campaign [but] this particular feature was initiated by Bord Failte without our knowledge."
"I'd like to assure you that Guinness does not support blood sports and would not knowingly lend its name to the promotion of hunting holidays in Ireland," she added.
Last year Bord Failte confirmed that they had ceased actively promoting blood sport holidays due to the controversial nature of the activity and also due to a low level of interest. They promised that literature advertising hunting holidays would no longer be distributed.
ICABS is very concerned about this apparent about turn and fear that it may signal an invitation to UK hunters who may soon be facing a hunting ban under the new Labour Government. It is indeed disappointing to see the national tourist board again promoting blood sports, especially following the recent release of horrendous video footage which clearly shows the barbarity of the hunt.
Hare netting attempt foiled
Gardai launched an investigation following complaints that members of a Limerick coursing club tried to net hares on a Bord na Mona bog in County Offaly.
Boora Bog near Ferbane is preserved as a sanctuary and interfering with hares is prohibited.
ICABS understands that the individuals were from a coursing club in Limerick and were netting hares for their annual coursing meeting at Doon, Co Limerick.
Gardai were called to the scene and statements were taken from those involved. A file was subsequently sent to the Director of Public Prosecutions.
Wildlife Officer confiscates cruel leg-hold traps
A Wildlife Officer, acting on complaints from an animal welfare group, has confiscated illegal leg-hold traps being offered for sale in a Kilkenny antiques shop. The owner was ordered by Officer Padraig Comerford to stop selling the cruel traps because they are illegal under the Wildlife Act.
Leg-hold traps, also known as gin traps, are extremely cruel and capable of causing severe injury and death to animals.
ICABS has witnessed the damage leg-hold traps cause to animals. In one incident, a pet cat in Westmeath got caught in one of the traps and sustained injuries so great that its leg had to be amputated.
Victim: a dead cat and the gin trap which killed him.
The cat arrived home to its owner in agony with the trap - weighing one and three quarter pounds - biting into its flesh. The unfortunate animals suffered extensive injuries to its skin and nerves and had to be rushed to the vet for attention. The cat's owner said that she suspected the traps were being used to cruelly catch rabbits and hares.
The Irish Council Against Blood Sports objects strongly to the illegal use of leg-hold traps and urges anyone who spots one of these devices to immediately report it to the Gardai or to a local Wildlife Ranger.
Iarnrod Eireann will use the law to hunt fox hunters off tracks
Iarnrod Eireann has vowed to take legal action if roaming fox hunters don't stop trespassing onto railway tracks. The company which takes over a hundred prosecutions against trespassers every year says it will now be turning its attention to hunters.
The comments came after ICABS highlighted an incidence of trespass in Limerick which saw hounds straying onto a public railway line during a hunt.
A spokesperson for the company said: "It is the company's policy to prosecute trespassers and in light of the comments you made...the Chief Executive of Iarnrod Eireann has asked the divisional engineer at Limerick Junction to monitor trespassing by hunts."
"You can be assured that he will take action if incidents occur, including prosecution by law where necessary," she added.
Trespassing onto railway lines by hunts can pose a serious threat to the safety of rail passengers and put packs of foxhounds at risk of being killed or injured by trains. A report published by the League Against Cruel Sports focuses on road and rail accidents in which one hundred foxhounds were killed. The report concludes that "the threat to safety of road and rail travellers and the suffering and death caused to the hounds is yet another good reason why the hunting of wild animals should be replaced by drag hunting in which the hounds follow and artificial trail laid safely across the countryside so as to avoid roads and railways."
Champions of coursing appointed to junior ministries
The coursing fraternity have reason to be pleased, given that two of their most avid political supporters, Noel Davern and Ned O'Keefe, have been appointed by Bertie Ahern as Junior Ministers in the Department of Agriculture.
Both Davern and O'Keefe spoke in favour of coursing during Tony Gregory's 1993 Private Members Bill and Davern was seen leading the coursing brethren around Leinster House.
During the debate on the Bill, Davern claimed he had received "filthy" letters from anti-blood sports campaigners, a claim which was rightly and strenuously denied by anti-blood sports organisations who felt he was engaged in smear tactics.
O'Keefe, who owns an intensive pig far in Cork, called for the film "Babe" to be banned last year because he felt it would harm the bacon industry. He also supports otter hunting and has called for its restoration.
ICABS has in the past met with various Junior Ministers at the Department in relation to our campaign work, but there is no way we could ever expect to receive a fair hearing from either O'Keefe or Davern.
Hunters pose road traffic hazard
Pictured are fox hunters posing what we believe must surely be a road traffic hazard.
Taken by an ICABS supporter in County Westmeath, the photograph shows the hunt blocking one lane of a two lane road at the brow of a hill. The group of hunters remained in this dangerous position for between 20-30 minutes and according to our observers, motorists approaching from both sides of the hill had only the use of one lane.
One lane closed to traffic: fox hunters causing chaos for traffic.
ICABS suspects that this incident constitutes a breach of the road traffic regulations. According to the rules of the road, "a person riding or leading a horse must keep to the left hand edge of the roadway." Our photograph clearly shows mounted hunters side by side and out close to the centre of the road.
The rules of the road also state that "a person in charge of animals on a roadway must take reasonable steps to ensure that the animals do not obstruct the passage of traffic." ICABS has brought this incident to the attention of the Gardai.
Supermarket acts to reverse bullfight promotion
Supermarket chain Supervalu admitted to making an error after brochures promoting bullfighting were circulated in stores nation-wide.
The brochures advertising the chain's holiday flights promotion pointed to Valencia as a prime destination for those seeking "the experience of a bullfight".
Following numerous calls to our office from concerned Supervalu customers, ICABS appealed to the company to immediately withdraw the brochures and cease promoting one of the world's most cruel and barbaric activities.
In response, a statement from the company insisted that the inclusion of bullfighting in the promotion was a mistake and that it simply slipped through without anybody noticing.
According to Marketing Manager Anne Dunphy, "it was never our intention to support or condone blood sports in any way. The reference to bullfighting was inadvertent and in no way represents Supervalu's concern for nature and the environment."
Since the brochures were already in circulation, however, the company was unable to make immediate amends but promised instead to ensure that any reprints would be altered.
They also assured us that a copy of the ICABS "Holidaymakers - make your holiday cruelty free" leaflet would be sent to all customers who used the promotion to book a flight to Spain.
"We will in the future ensure that the company is not seen to condone blood sports - which of course we do not - in any shape or form," Ms Dunphy stated.
Exposed! Devious hunter tactics to infiltrate ISPCA
Following our revelations in the last issue of Animal Watch, that blood sports enthusiasts are intensifying efforts to infiltrate local branches of the ISPCA, we have obtained copies of a foxhunter newsletter which confirms their cynical campaign.
In the Irish Masters of Foxhounds Bulletin, the callous attitude of the hunters is clearly laid out.
With regard to attempts to overturn official ISPCA anti-blood sports policy, the internal bulletin urges hunt masters to "wake up to the challenges ahead and take control of the local animal welfare organisations before the animal rights activists do".
In a section headed "Well Done", the bulletin congratulates members of the North Tipperary Hunt and the Ormond Hounds who "won the day and voted all the anti-fieldsports and ICABS members off the [North Tipperary SPCA] Branch Committee".
It goes on to encourage others to do likewise, saying "let this example now shine throughout the land".
The hunting fraternity's underhand tactics are clearly illustrated. Masters are urged to make contact with their local SPCA chairman, determine whether he/she is predisposed towards hunting and from there, "try, in a quiet way, to infiltrate their meetings - particularly the AGM - it will only cost each individual £5 a year, but we would prevent the Irish Council Against Blood Sports from gaining a valuable and useful organisation."
The Irish Council Against Blood Sports finds it very disturbing that the ISPCA should be in such a vulnerable position that these blood sports supporters, by paying a mere £5 annual membership, could influence ISPCA policy to their own devious ends. Surely, the general public who donate to the ISPCA would not wish to see the funds and resources of the society in the control of blood sports supporters who care more about preserving their barbaric and outdated activities than about genuine animal welfare issues and the prevention of cruelty to animals.
Waterford huntsman has UK convictions
A huntsman who fired a double-barrelled shotgun during an anti-hunt protest in England is now operating in Ireland, ICABS has learned. Nigel Cox, a former hunt servant at the Albrighton Hunt Kennels in Shropshire, is now a full-time huntsman with the Waterford Foxhounds Hunt and employed by the committee of the hunt.
During his time with the Albrighton Hunt, Cox received a three month suspended sentence after admitting to firing a shot into the minibus of a group of anti-hunt protestors. The shot caused extensive damage to the vehicle's radiator and had terrified onlookers diving for cover. Mr Cox also received a one year conditional discharge for damaging a camera belonging to one of the protestors.
Nigel Cox with his double-barrelled shotgun.
The incident which took place in October 1985 came after protestors endeavoured to block the entrance to the kennels to prevent foxhounds being transferred to nearby hunting grounds. Cox ran to his house, armed himself with a 12-bore shotgun and, swinging it in the direction of a female members of the group, hit a camera causing £84 worth of damage. He then fired a bullet into the front of the minibus. Local police had to rush to the scene to prevent further disorder.
This show of violence was one of several which kept the spotlight on the nastiness of the Albrighton Hunt. In a separate incident, a court found the master of the hunt guilty of lashing out at a hunt protestor and awarded £100 in damages against him. Local farmers meanwhile witnessed the dangers fox hunting poses to livestock after the hunt's hounds ran riot in a field of pregnant cows, causing numerous miscarriages.
ICABS can now confirm that 43-year-old Cox is now operating as a full-time hunter with the Waterford Foxhounds. He took up this position after a period as whipper-in with the Co Limerick Foxhounds. According to sources he still shows signs of disliking anti-hunt observers.
Protest at Westmeath coursing venue produces valuable video footage
An anti-blood sports protest organised by ICABS proved the ideal opportunity to capture valuable video evidence showing cruelty to hares by muzzled greyhounds. Our shocking video images were subsequently shown on RTE's 6.01 News in February. The protest held adjacent to a coursing field in Castletown Geoghegan, Mullingar was attended by supporters from both ICABS and the Animal Cruelty Investigation Group (ACIG).
The following is an account of the eventful day by ACIG's Mike Huskisson, a long time campaigner against blood sports whose successes in the past have included the expose of the infamous Quorn Fox Hunt two years ago. On the day, Mike joined us in filming the similarly cruel hare coursing activities.
The ICABS team set about arranging a banner demonstration on the roadside verge whilst I and an ICABS/ACIG supporter set about the task of recording the proceedings on film from amongst the banners. Within a matter of minutes some of the coursing lads came out towards us and one advised me to be very careful with my camera.
Protesting against live hare coursing at Castletown Geoghegan, Westmeath.
The ICABS team were told that they were not allowed to demonstrate. At this, their organiser used her mobile phone to summon the Gardai. The arrival of the local officer took the heat out of the situation and we were allowed to carry on with the protest and filming. The coursers clearly loathed being filmed but there was little they could do.
The slips (head starts) given to the hares seemed unusually long and as a result several of the hares had reached the sanctuary of the escape zone before the dogs were even up with them. On some occasions, the slips were so long that one or both dogs ran unsighted - this is when the dog has lost sight of the hare and as a result bounds gaily and aimlessly up the field. Even thought that particular course may be re-run, it amounts to singularly poor coursing and could be avoided by using an artificial lure on a regulation length slip.
Our first indicator that a hare was in the field and the course was on was when the judge - a "lady" on horseback - spurred her horse up the field towards our left. The tiny fleeing hare would come into view with the dogs pounding after her to the cheers of the crowd. All we could do was whisper a little prayer that she might have the guile and nimbleness of foot to avoid her tormentors. Sometimes she did but when she didn't, it was very unpleasant. On one occasion she was flicked forward in a cartwheeling manner by one of the dogs. Over and over she tumbled. Could she regain her composure and race away or had some part of her anatomy been damaged, allowing the dogs to batter her? Thankfully she was on her feet and darted off to safety leaving the dogs frustrated.
Not all hares were as fortunate, however - we saw two maulings where the hares were pinned to the ground by one or both dogs and given a real battering. Each time, one of the supporters dashed up the field to retrieve the hare. He clutched the battered little body to shield her from the dogs. Was she dead? Was she alive? With the dogs held by their handlers, he could have proved that she was still living, if indeed she was, by replacing her on the ground and allowing her to make her own way to the escape area. I saw no sign of movement from the hare on either occasion.
When the hares were being mauled or pinned to the ground there was absolute silence from the crowd. This was in stark contrast to the raucous cheers and jeers that I have heard and recorded from coursing supporters in the UK. It could be that the coursing followers here are fearful of a more imminent ban on their activities and consequently are on their extra special "best behaviour".
The coursing continued until some time in the afternoon and afterwards we stayed around to see what would happen to the hares. The hares are caught up before the meeting and then held in an enclosure to be released at the appointed time. After the coursing meeting, hares that are in a fit condition are supposed to be released. However, hares are not easy to catch in the first place and ICABS has often wondered as to the true nature of the "hare release" that takes place. This appeared to be an ideal time for us to follow the coursers with the hares to see just exactly what does happen.
It was soon clear that despite being told by some supporters that we could watch the hares being released, we were in fact to be involved in a game of cat and mouse. After a lengthy delay to catch, count and check the hares (we were told that two had slight marks on them and that two were "missing"), the van carrying the hares set off down the narrow lanes followed by a car driven by a coursing supporter.
Memories of time spent trying to follow the secretive otter hunters back in the early 1970s led me to suspect that the back-up car would simply block the lane to us and thereby allow the front vehicle to proceed unobserved. The coursers here had thought of an added refinement to this technique.
Our convoy proceeded down a narrow, minor road whereupon the rear vehicle stopped and blocked us, allowing the lead vehicle, carrying the hares, to disappear. There was an ICABS car behind the road blockage and then mine. I was about to get out and film the road being blocked when the ICABS car suddenly started to reverse. I looked to my right, and coming down the farm drive towards us was a heavy-built man backed up by a number of young lads, at least three of whom were brandishing shotguns!
I have always believed discretion to be the better part of valour so I hastily nipped back into my car and beat a hasty retreat. We called the Gardai again but as the light faded so did our hopes of seeing the hares being released. We have only the word of the coursing fraternity that they were. We failed in that regard but we had secured memorable footage proving the violence and pain that is inflicted on hares even when the dogs are muzzled.
Pope meets top bullfighter
It was very distressing for many Catholics to recently see the Pope giving a private audience to one of Spain's top bullfighters and accepting a present stained with the blood of an animal. It was further distressing when the present turned out to be a statue of the Virgin Mary.
Says Spanish-based Anti Bullfighting Campaign: "We do not blame the Pope, without a doubt, a person of good will. We blame his advisers and counsellors who are causing grave damage to this millennial institution."
"In general," they point out, "religious beliefs are based on a respect for basic rights and an acceptance of the precepts of natural law and reason. It is then reasonable to think that they have to defend the right to life, reject torture and respect nature."
Pope John Paul II receives a gift from Spanish bullfighter, Jesulin De Ubrique, during a private audience at the Vatican in January.
A spokesperson for Spanish animal welfare group, ANDA, meanwhile pointed out that "this is not the first time this has happened. The Catholic Church hierarchy is very closely involved in promoting bullfighting. Not so long ago another bullfighter presented the Pope with a [bullfighting] cape with the Virgin's image embroidered on it."
If you would like to write to the Pope to express your concern about the cruelty of bullfighting and about animal welfare in general, please address your letters to Pope John Paul II, Vatican City, Rome, Italy.
Heineken remains connected to coursing event
ICABS still at lager-heads with Murphy's over banner
Murphy's Brewery has reneged on a promise to ICABS to remove a Heineken banner from a coursing venue but have firmly re-iterated that they do not sponsor blood sports.
In the March 1996 issue of Animal Watch we were congratulating Murphy's after they assured us that the advertisement banner which is displayed at Roscommon Race Course would be taken down. Brewery Marketing Manager, Patrick Conway, told us that the company would "arrange for the banner to be removed on the dates that hare coursing takes place at this venue".
The promises amounted to nothing however and ICABS supporters demonstrating at the venue last December were disappointed to see the prominent banner still in place.
The controversial Heineken banner.
ICABS has witnessed hares being mauled into the ground and killed at this meet for two consecutive years now.
While we understand and accept that Murphy's do not actually sponsor coursing, the presence of their name at the venue leads to some ambiguity.
In our original appeal to Murphy's Brewery, we stated that the majority of Irish people are opposed to hare coursing and presumably therefore, the majority of Heineken consumers also.
Our appeal prompted Murphy's to act to allay any doubts about their anti-blood sports stance by agreeing that the banner should indeed be removed from the race course during the annual two-day coursing event.
Regarding the broken promise, a Murphy's spokesperson stated that the company's management would now be investigating why the advertisement had not been removed.
He added that there was "no way" that the company are associated with blood sport sponsorship.
Budget Travel a huge help in anti-bullfighting campaign
ICABS would like to take this opportunity to thank everyone at Budget Travel and especially Jacinta McGlynn, for their very valuable support. To assist us in our annual anti-bullfighting awareness-raising campaign, Budget Travel have displayed copies of an ICABS information leaflet in their outlets for the past two summers.
The leaflet bearing the slogan "Holidaymakers - Make your holiday cruelty free" aims to inform tourists travelling to Spain about the extreme cruelty of bullfighting. Irish holidaymakers are asked to boycott the bloody bullrings where thousands of bulls are tortured and killed every year.
The availability of these leaflets in travel agent outlets is an enormous boost to our campaign because it allows people who are booking holidays and who may be unaware of the true facts about bullfighting to take a leaflet home, read through it and make a conscious decision to avoid supporting bullfighting once they arrive in Spain.
ICABS is aware that bullrings in many of Spain's holiday spots would be forced to shut down if tourists boycotted them. So, on behalf of ICABS and all our supporters, a big thank you to all at Budget.
North Tipperary SPCA still refuses to support ISPCA policies
The Irish Masters of Foxhounds Association is well pleased with local fox hunts for retaining control of the North Tipperary Society for the Prevention of Cruelty to Animals (NTSPCA) since the general meeting on 21st May 1996 when they packed the 100 strong meeting to vote to reject ISPCA policies, support hare coursing and remove five hard-working animal welfare workers from the committee.
As a result, the North Tipperary SPCA had its affiliation to the ISPCA suspended and still remains suspended. Although not prepared to support ISPCA policies, NTSPCA hopes to be allowed to re-affiliate to the ISPCA with full voting rights.
At this year's NTSPCA Annual General Meeting, the chairman refused to allow any motions on ISPCA policies or blood sports. That meeting was attended by a member of the Limerick SPCA whom I believe is now pressing for the NTSPCA re-affiliation to the ISPCA. NTSPCA has the support of the other pro-foxhunting SPCAs which seem to now include the Limerick SPCA even though it was that society which proposed the first motion against blood sports to be passed by the ISPCA in 1990.
NTSPCA, with its unusually intimate links with hare coursing and fox hunting, want a vote at ISPCA meetings to influence future decisions and policies. It is clear that NTSPCA supports blood sports and many of its members are involved in blood sports. They know that their re-affiliation to the ISPCA depends on their avoiding any public exposure of this. Hence you have the ludicrous situation where the body of the membership of NTSPCA voted against condemning hare coursing in 1996 and then in 1997, in a cynical move to re-affiliate to the ISPCA, the same people voted to rescind the 1996 motions.
They are attempting to run with the hare and hunt with the hounds (something at which they are well skilled) and the ISPCA executive surely realises this.
Such disunity among local societies is causing considerable damage to animal welfare work in Ireland in that it risks damaging the credibility of the ISPCA as a whole.
In the past there were links between the SPCA and fox hunting which are rapidly diminishing in modern times. The ISPCA is moving forward and has now declared its opposition to blood sports in its policies.
All animal welfare groups wholeheartedly oppose hare coursing and fox hunting.
Societies like North Tipperary SPCA are a throw-back to the past when tormenting and killing of animals for pleasure was considered an acceptable country pursuit.
It is to be hoped that the ISPCA will maintain its forward looking attitudes by rejecting the North Tipperary SPCA.
Linda Hehir
Fox hunters claim support from seven SPCAs
"The very backbone of each county SPCA branch are those who hunt, shoot or fish. Without these volunteers and the fund-raising that they do, the entire local structure of this society will collapse.
"One only has to look at the lasting and assiduous work carried out by hunting people on the SPCA branches in Kildare, Westmeath, Meath, Laois, Cork, North Tipperary and Limerick to see the importance of keeping them involved."
James Norton, Public Relations Officer, Irish Masters of Foxhounds Association in the "Irish Field" newspaper - 10th February 1996.
North Tipp SPCA damages dog re-homing schemes
After the expulsion of several hard-working animal welfare people from the North Tipperary Society for the Prevention of Cruelty to Animals (NTSPCA) in 1996, a new animal welfare group was formed in County Tipperary. This is a young, committed group with policies embracing the care of all animals and one of its first activities was to put in place a scheme for re-homing unwanted and neglected dogs and cats.
Some short while after this re-homing scheme started, notices began to appear in Nenagh, where the NTSPCA is based, stating the following: "Stray Dogs - members of the public who find a stray dog are legally required to return it to its owner or deliver it to a dog warden or the pound and to notify the Gardai."
The Control of Dogs Act 1986, Section 13, does not require the public to notify the Gardai if they hand a stray dog to a warden or to the pound and the Act allows a third option not mentioned in the North Tipperary SPCA notice, namely "detain the dog and give notice in writing...to the Gardai or a dog warden".
It is hard to believe that the NTSPCA was unaware of this third option since it appears in the same clause in the Control of Dogs Act immediately beneath the two options quoted. Was it the intention of the North Tipperary SPCA to convince the public that providing a foster home for an unwanted or neglected dog is illegal? Why would they want to give this impression in their notice?
To make matters worse, the policy of the North Tipperary County Council is that dogs over six months old cannot be re-homed from the pound. They will be destroyed.
The effect of these misleading notices will be to condemn many strays over six months to a certain death. This turn of events in North Tipperary is extraordinary and not what most people would expect from an SPCA.
How the ISPCA works
Each county SPCA which affiliates to the ISPCA has one vote at ISPCA general meetings and at ISPCA council meetings. Affiliated societies are also bound by the ISPCA policy document passed in 1995.
Prior to 1995, in the absence of ISPCA policy document, each county SPCA formulated its own policies, sometimes leading to two societies taking diametrically opposing views. Societies which support fox hunting like North Tipperary SPCA want to remain autonomous but also want to be affiliated to the ISPCA to have a vote in future decisions and policy making and to receive financial assistance from the ISPCA.
Shameful blood sport
"That's disgusting!" "I feel sick." "Really Horrible!" Members of the public visiting the Hugh Lane Municipal Gallery of Modern Art in Dublin are gathered around the hard-hitting work of Kilkenny artist, Patrick O'Reilly. Their words are the greatest praise he can receive for his anti-bullfighting exhibit which leaves nothing to the imagination in its effort to highlight the sheer barbarity of Spanish bullfights.
With its striking imagery, "Shame" is an exhibit you just cannot pass. Consisting of a bull-headed matador towering over a collapsed, blood spattered fairground ride bull, the message is simple: in blood sports, man is the beast and the tortured animal is the pathetic victim of his mindless cruelty and violence.
Behind the central scene, four television screens graphically depict the horror in the arena. The bull's loss of blood, the colourful banderillas hanging painfully from its back, the matador proudly waving the animal's severed tail, the cheering of a frenzied crowd. It all culminates in slow motion as the exhausted bull finally collapses to the ground.
Patrick O'Reilly's hard-hitting anti-bullfighting exhibit.
A well chosen quote from a Martin Tupper poem acts as a footnote to the exhibit:
"Liveth there no advocate for him? No judge to avenge his wrongs? No voice that shall be heard in his defence? No sentence to be passed on his oppressor? Yea, the sad eye of the tortured pleadeth pathetically for him; yea, all the justice in heaven is raised in indignation at his woes. Yea, all the pity upon earth shall call down a curse upon the cruel; Shame upon thee, savage monarch man, proud monopolist of reason."
A gallery guide, meanwhile, interprets the exhibit for a group of horrified young school children: "The artist is showing his disgust at such a horrific blood sport," he says. "And I hate to use that word because it's not a sport - a sport is where you have a fair chance."
At the time of going to press, the Patrick O'Reilly exhibition at the Hugh Lane Gallery had ended but the good news is that the gallery has purchased the "Shame" exhibit and we are told that it will continue to be on display for the foreseeable future.
The Hugh Lane Gallery is situated at Parnell Square North next to the Dublin Writers Museum. Admission is free.
Philip Kiernan
Appeal from Rhodes
The Rhodes Animal Welfare Society has issued an appeal for support from animal lovers around Europe. The society rescues and cares for sick, injured and unwanted cats and dogs on the island but says it is now in considerable financial difficulties. "We have come to the stage where we really need help from outside," says society spokesperson, Dievwka Van-Zutphen.
"We have been struggling to care for the animals of Rhodes for many years and up to now we have managed to cope. Last year, however, we were forced to leave the premises we had, which was very central and easy for tourists to find. Most of our finances come from tourists but now because our new office is more difficult to find, there has been a sharp drop in the amount of visitors and, of course, finances."
Founded in 1990, the Rhodes Animal Welfare Society is a non-profit organisation dedicated to the caring of sick and stray animals. It has successfully rehomed numerous dogs, most notably to tourists visiting the island. In 1995, 114 of their rescued dogs were adopted by tourists from Germany, Denmark, the Netherlands, Austria and England. The society has initiated a spaying and neutering programme to help reduce the number of stray animals on the island and volunteers work to raise public awareness about animal welfare.
"At the moment, we have 45 dogs and about 20 cats that we are caring for," says Dievwka Van-Zutphen. "We will be pleased with any kind of assistance - every little bit helps."
A message from an anti-bullfighting Spanish mayor
"That you for your kind congratulations and your valuable support. The struggle goes on!"
Macia Pedrosa i Claret, Mayor of Olot, Catalunya, Spain in reply to an ICABS letter of congratulations. Macia Pedrosa succeeded in banning bullfighting from his city, a move which reflects a growing opposition to bullfighting in Spain.
The horror of Barraca
Failure by the Spanish Government to prosecute cruel bird hunters in the Catalonia region of the country is resulting in the deaths of millions of song thrushes every year.
Despite the fact that the repugnant practice of "barraca" is illegal in Spain and indeed in all European countries, the Spanish Government is failing to act to bring the practice to an end. Barraca sees heartless hunters hiding in a small camouflaged hut with broken tree branches lying up against it. The branches are painted with a sticky glue-like substance and when the devious hunters play bird sounds from a tape deck inside the hut, the unsuspecting birds are attracted to the branches to meet their terrible end.
A barraca victim stuck to a branch.
This horrific hunting system has become a profitable business due to a demand created by international food companies who use the birds as pate ingredients.
You can help the song thrushes of Catalonia by writing a polite but firm letter to the Catalonian Department of Agriculture.
ICABS supporter challenges Dick Spring on blood sports
During a pre-election campaign trip to Mullingar, former Tanaiste Dick Spring was publicly challenged on his blood sports views by ICABS supporter, Mona Ward.
Mona, who continues to be a hard working ICABS supporter, pointed out to the Labour leader that "just because something is legal, doesn't mean that it is right and moral." She pressed Mr Spring to follow the good example of UK Labour leader Tony Blair by giving a commitment to hold discussions on blood sports at parliamentary level. Mr Spring declined the request - not surprising really, seeing as his stance on blood sports was made clear just two months earlier when he attended a hare coursing event.
Mona got the last word in however, telling Mr Spring that politicians like him appear to be "in the business of keeping their seats and not leading with moral values".
Coursing - a minority pastime which three quarters of Ireland want banned
ICABS is pleased to report that the numbers attending coursing meetings appear to be continually falling.
According to observers around the country, the amount of people supporting coursing events is very low indeed.
The scene below from Roscommon Race Course is typical of the low turn-outs being recorded. But even so, hares are still being injured and killed by greyhounds so it is essential for pressure to be kept on the government to hasten a ban.
Minority sport: a small gathering of coursing followers.
Write to your local TD and ask him or her to support legislation to outlaw this barbaric and outdated pastime.
Contact the ICABS office for names and addresses of your local TDs. It's only a matter of time before coursing is banned - together we can make it sooner rather than later.
Book review
"Run to the Wild Wood" is the fifth in a series of wildlife books by Irish children's writer Tom McCaughren and for children who love animals, it is a very special book indeed. With a cast of enchanting and loveable characters in a countryside filled with excitement, danger and adventure, "Run to the Wild Wood" is sure to keep you entertained from beginning to end.
The story is all about a group of foxes who agree to help a family of badgers to find a new home after their sett in the Fragrant Wood is destroyed by men.
Led by Old Sage Brush (a fox who was blinded by cruel fox hunters who dug him out of his earth), the group of determined animals set out on a quest which will take them along a trail of adventure towards the unknown perils of their destination - the Valley of the Dragon.
"Run to the Wild Wood" is not only a very entertaining story to read but it is very informative as well. As you journey cross country with the characters, you will learn loads about trees and flowers, birds and animals. You will get an insight into the remarkable way nature works and see how the animals depend on each other to survive.
Award winning author, Tom McCaughren, has a huge interest in wildlife and his vast knowledge is very evident in this book.
For a long time, foxes have been wrongly portrayed as the villains of the countryside - this is because some people don't understand the fox and his ways. It is well researched books like this one that will finally help us to see the true nature of the fox and learn the truth about his fascinating habits and lifestyle.
"Run to the Wild Wood" is dedicated to all those who asked the author to "write another fox book" and I suspect that after reading this one, there will be an even greater demand for yet another! Highly recommended.
"Run to the Wild Wood" by Tom McCaughren is published by Wolfhound Press and costs £6.99 (hardback) or £3.99 (paperback).
Five super books to be won
Wolfhound Press has very kindly given us five copies of "Run to the Wild Wood" to give away in our special competition. Simply answer the question below and send it to us on a postcard, along with your name, age and address. Please make sure your entry reaches us by November 30th, 1997. All winners will be notified. Competition Question: What is the name of the old, blind fox who leads the group of animals across the countryside?
Letter writing campaign continues
The review into blood sport activities currently being carried out by the Heritage Council was initiated by the former Minister for Arts, Culture and the Gaeltacht, Michael D Higgins and focuses on otter hunting, stag hunting, beagling, harrying and hare coursing.
The new Minister for Arts, Heritage, Gaeltacht and the Islands, Sile De Valera, will now have responsibility for the Wildlife Act and ICABS asks supporters to write a brief letter to Ms De Valera urging her to facilitate the continuation of the review and to urgently make changes to the Act so that our wildlife is protected from blood sports abuse.
Well done to everyone who has written to their local politicians in recent months.
Now that there has been a change in government, it is very important to start writing those campaigning letters again. It is the ideal time to remind your local politicians about the cruelty of blood sports.
Tell them that you are totally opposed to animal cruelty and ask them to support legislation to ban fox hunting, hare coursing, stag hunting and all blood sports. The more people who contact politicians regarding this, the better, so send your letter to several and encourage your family and friends to do likewise.
Every letter counts so get writing now!
Minister ignores Heritage Council's recommendation to with-hold hunting licences
The Irish Council Against Blood Sports is extremely disappointed that the Minister for Arts, Heritage, Gaeltacht and the Islands, Sile De Valera, has chosen to reject the recommendations of the Heritage Council that licences for netting hares, stag hunting with hounds and beagling be with-held until the review of these practices (initiated by previous Minister, Michael D Higgins) is complete.
We understand that the Heritage Council wrote to the Minister in early August making the recommendation. However, ICABS has since learned that a licence to net hares for coursing has already been issued to the Irish Coursing Club.
We have also been informed by an official from the National Parks and Wildlife Service that the Ward Union Stag Hunt will be granted a licence to hunt stags with a pack of hounds twice weekly from October to March.
It is very disappointing that the Minister, who may exercise her discretion in the issuing of licences, did not take the Heritage Council's recommendations on board in relation to these cruel blood sport activities. ICABS has called on her to withdraw the hare netting licence from the Irish Coursing Club and with-hold the licence from the Ward Union Stag Hunt until the Heritage Council have, at the very least, completed reviewing the 1,250 submissions they received from interested parties and made their final report on the matter.
What faith can the public have in such reviews of expert groups set up to advise the Minister, if their recommendations are to be ignored?
Report indicates link between hunters and sex crimes
According to psychological research carried out in the United States and sponsored by the US Fish and Wildlife Service, a set of attitudes and values known as dominionism have been identified which most people have to some degree but which hunters tend to have to twice the degree as non-hunters.
Dominionism, defined as the idea that dominating another person or animal is fun, has also been identified as a primary motive in studies of convicted sex offenders.
Investigating the relationship between hunting and sex crimes, Animal People publication chose New York State for a survey and compared official crime rate figures with the sale of hunting licences. In about 20 out of the 22 counties compared, the investigation showed that counties with the most hunters also had the most cases of child molestation. The same study also pointed to possible links between hunting and wife-beating.
Limerick flag day a success
A flag day held by the Limerick Support Group was a huge success and attracted great interest from members of the public. Held in Limerick City at the beginning of July, the organisers raised several hundred pounds for the campaign and distributed numerous leaflets and newsletters.
According to ICABS Director, Linda Hehir, an overwhelming majority of Limerick people who showed an interest in the information stand expressed their support for a banning of blood sports.
Well done to everyone involved and many thanks to all who gave so generously.
Rare species hunt
Despite a world-wide ban on the killing of jaguars, the government in Venezuela has approved the legal shooting of this magnificent creature.
This decision could have a disastrous effect on the already declining local jaguar population. The government is using the ridiculous excuse that the revenue from the hunting is the only way to pay for a small relocation scheme in the country's nature reserves. A licence to slaughter a jaguar is expected to cost around £12,000.
Spanish chicken horror banned
An horrific ritual involving live chickens which took place annually at the Spanish Village of Nalda in the wine-growing region of Rioja is now banned, following pressure from animal welfare groups and animal protection laws.
The gruesome ritual, exposed in a 1991 UTV documentary about cruel Spanish fiestas horrified Irish viewers, resulting in the phone lines to the Spanish Embassy being jammed the following day with calls of protest. The video footage (shot by courageous animal rights campaigner, Vicki Moore who almost lost her life two years ago in Spain when she was gored by a bull) showed live chickens hanging upside down on a line strung across the street, while riders on horseback galloped by and ripped their heads off with their bare hands.
Prior to the "race", the riders received the blessing of the local priest after mass. The sickening event up to now had been the climax of annual festivities in honour of the Virgin and San Roque, Nalda's patron saint.
Sad death of Jim Kemmy, TD
ICABS lost a good friend with the death on September 25th, 1997 of Jim Kemmy, TD for Limerick East. Known as "The Gentle Giant", Jim was totally opposed to blood sports and in February 1993, following a phone call from ICABS, he publicly called for a halt to the infamous Irish Cup Meeting in Clounanna as the toll of hare deaths increased over the three day meeting. He spoke out against coursing whenever he could and was genuinely torn that he found himself in a position whereby he could not vote for the Private Member's Bill to ban coursing in 1993 when he was obliged by the whip to vote along party lines. He had previously called for a free vote on the issue.
Ar dheis De go raibh a h-anam dilis.
The video images that shocked a nation
A fox is forced into a sack from which it will later be released to run for its life before the pack of hounds.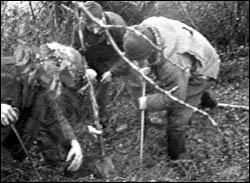 No escape: When the fox attempts to find refuge from the hunters underground, the terriermen members of the hunt are called to the scene to force it from its hiding place. Here we see them thrusting sticks into the earth in an effort to locate the position of the fox.
The terrified and injured fox with a wound clearly visible on its head.
A terrier is sent into the earth to drag the fox out into the open. Underground battles between terrier and fox often ensue, resulting in serious injuries to both animals.
No mercy: A hunter holds the fox by its tail as the dogs bite it.
Typical end to a day's fox hunting: Trained hounds and terriers bite and snap at the fox before ripping its body to bits.
Credits
Animal Watch is published by the Irish Council Against Blood Sports.
Editor: Philip Kiernan
Sub-editor: Aideen Yourell
Contributors: Pat Phelan, Aideen Yourell, Philip Samways, Linda Hehir, Mike Huskisson, John Tierney, Charlotte Eager.
Layout and design: Philip Kiernan
The views expressed in Animal Watch are not necessarily those of the Irish Council Against Blood Sports.
---
Animal Watch Menu | Subscribe | Top | Home